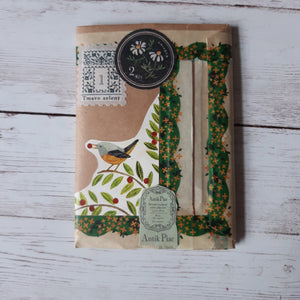 Hello and happy summer from Tokyo! I feel like I have not updated the blog in quite some time and Katrin created this very creative folder using the contents from the June 2023 stationery box that I had to share with you! I like how she used the papers from the paper pad to create small little pockets to slip in little goodies.  She also kept the clear envelope from the stickers and tipped that in for a great sticker storage. So creative! You can check her instagram here @katrinsizu for more fun and inspirational journaling content :) Limited time...
---
Unboxing the stationery subscription box by Skylar Hand - March 2023 .
---
• japan stationery • japanese stationery • Made in Japan • sneak peek • stationery box • stationery subscription box • subscription box • unboxing video • youtube video
Curious to see what is included in July's 2022 Stationery Selection Subscription box? Check out Skylar Hand's unboxing on Youtube here:  
---
Hello!I hope you are doing well. I haven't filmed an unboxing video in quite some time so I thought I would share with you the wonderful stationery items in these two boxes.  If you are interested in some stationery items, we have some of our past stationery boxes available for purchase here We are always open to combining shipping - you just need to email us asap with your order number and we can make a note of it.  If you have any questions about anything , please feel free to email me :) Thank you always for supporting our...
---
Hello from a very hot and humid Tokyo, Japan... Today I wanted to share with you the lovely unboxing video by one of our design team members, Skylar Hand. You can check out the unboxing video here:  If you are interested in the June box, they are still currently for sale here If you wanted to check out our other stationery boxes that we have available , please click here.  As always, we are open to combining orders to save you some shipping costs, so please feel free to email us if you have any questions Email: hello@thestationeryselection.com